Faculty/Graduate School/Contents of Education
Faculty of Information Technology
and Social Sciences
No matter what kind of knowledge or technologies,
those that cannot serve society are meaningless.

In Europe and America, people who can transform society for the better with fresh ideas or technologies are called the "Creative Class." They are now in the spotlight as a new knowledge class free from the constraints of fixed opinions and bursting with the power to take action.
The Faculty of Information Technology and Social Sciences aims to create human resources which truly embody these characteristics. We do not just have our students study a curriculum blending sociology, information science, and business administration and economics which is our unique characteristic; we continuously ask them how they will use these classes of knowledge and technology. We want all our graduates to join Japan's "Creative Class", who will create new systems and norms for actual society.
To achieve this goal, this Faculty undertakes diverse practical projects intended to achieve the practical application of our knowledge and technologies. Developing e-learning systems intended to nurture specialists in many fields, building a web site linked to corporations and government, developing electronic educational material with unprecedented added value to help boost English language ability……
We provide students with genuine capabilities by going beyond armchair theorizing to help them learn how to apply their knowledge to practical issues and to create new products.
Four years is too short to refine students' ability to serve society. Please bombard your teachers with questions to be sure to maximize the benefits of this limited period. If you do, you will receive more than simply the answers to your questions, you will be able to understand the joy and fascination of learning. This provides all the motivation you will need. It will not only guarantee you the full benefits of university life; it will lay the foundations for a lifetime of personal growth.
Characteristics of the Faculty

Analyzes modern society from the perspectives of sociology, information science, and business administration and economics.
To analyze complex modern society, it is necessary to apply the methods of many specialized fields. So the Faculty has prepared a curriculum blending sociology, information science, and business administration and economics.
We nurture students' ability to objectively clarify society by, for example, applying numerical methods, but not to treat society conceptually.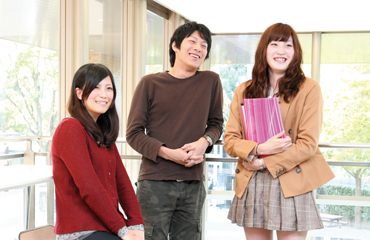 Nurtures creativity in demand by the information society.
IT is nothing else but a tool. In classes, we continually ask how IT knowledge and technology can be used to serve society. We nurture the creative ability to bring forth creative and revolutionary ideas to train personnel able to resolve problems facing society.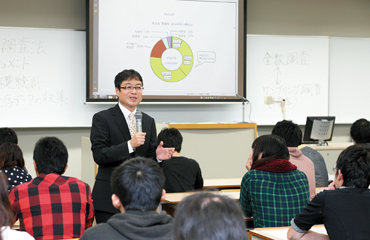 Teaches subjects and provides support systems for qualification tests to help our students gain qualifications.
The faculty has established procedures to help its students obtain qualifications such as the Official Business Skills Test in Bookkeeping, tax accountants, Fundamental Information Technology Engineer Examination, and other qualifications related to the subjects taught in the faculty. Students who attend extra lectures to prepare them to gain a qualification and who obtain the specified qualification can earn credits or subsidies for their examination fees.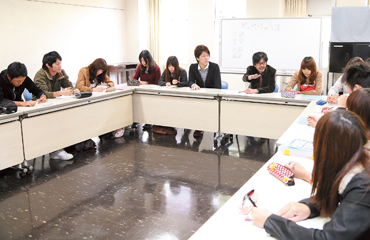 Four Year Flow

First year
Students master the basic knowledge offered by the faculty through introductory education.
They master the university's learning style through basic exercises in small classes.

Second year
Students begin their studies in earnest by taking Course Subjects from the perspectives of sociology, economics, and information science.
They study subjects they have selected from a broad line-up according to their interests and concerns.
Third year
Students register in Seminers and other Advanced Courses, which apply Course Subjects.
They also tackle the challenges of obtaining qualifications and internships.

Fourth year
Students move beyond Seminers to undertake Graduation Research.
They set their own challenges and write papers, refining their practical abilities.
Introductions to Courses
Three courses comprehensively study sociology, information science, and business administration and economics.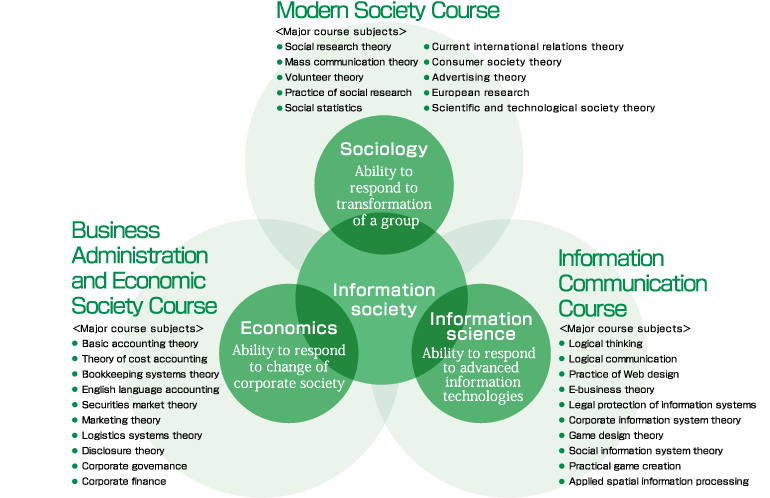 Definition of Sociology
Sociology is research on all kinds of phenomena which occur in actual society; human activities in families and in regional societies, resulting social problems, international social trends, and so on. Sociologists perform field work and apply theories of statistics to master the skills needed to discover and resolve practical problems.
Definition of Business Administration and Economics
Business administration is an academic field in which management and accounting theories are applied to research appropriate methods of managing corporations in the future. Economics applies a wide range of frameworks to clarify the flows of objects, people, and money to study improved social mechanisms and systems.
Definition of Information Science
It is a science which transcends boundaries between conventional academic fields to deal with problems of all kinds from the perspective of information. Information science experts skillfully use advanced computer theory and information processing capabilities to create improved forms of communication and business for the future information society.