Faculty/Graduate School/Contents of Education
Major Subjects
Introduction to the Classes
Mastering the basic ability to interpret society
■Basic sociology: Professor Takashi Namba
Abilities acquired
●Ability to understand basic sociology, which is required for four-year specialized study
●Ability to consider and explain society using sociology as a tool

What is the society in which we lead our lives? This class teaches the tool called sociology, which is needed to analyze social trends. Its themes are our immediate families and cities, and gender, welfare, and globalization, which we hear reported in the news. If students can observe society from a slightly different viewpoint based on a variety of such perspectives, the class will achieve its goal.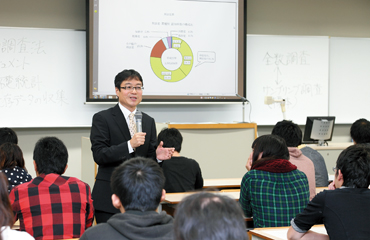 Learning the specialized skill of analyzing diverse spatial information
■Training in spatial information processing: Professor Nobuteru Kusanagi
Abilities acquired
●Ability to process data using maps and other spatial information
●Ability to apply Excel, which is indispensable in business settings

This class teaches students how to operate and apply spatial information systems, which are used for regional analysis, marketing and so on. Slides etc. are used to describe a series of processing methods such as data collection, processing, and analysis. Students deepen their understanding by performing tasks using computers. It trains students to use Excel because it is essential to use this software skillfully to analyze data.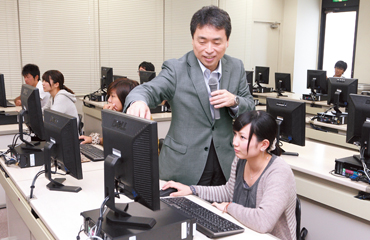 Subject List
Core subjects
Information society theory, Basic sociology, Basic economics, Basic business administration, Modern society and computers, Basics of information literacy
Introductory subjects
Society
Modern society theory, Social research theory I, International society theory, Social network theory

Business administration and Economics
Business administration and economic society, Corporate management theory, International economics theory, Corporate information analysis

Information
Information communication theory, Applied information literacy, Fundamentals of information systems, Presentation skills

Course subjects
Modern society course
Mass communication theory, Socio-information theory, Theory of social research II, Practice of social research I and II, Regional sociology, Comparative culture theory, Information and media theory, Advertising theory, European research, Consumer society theory, European culture theory, International culture theory, Current international relations theory, Environmental problems and corporations, Regions and industrial location, Quantitative data analysis methods, Social statistics I and II, Scientific and technological society theory I and II, Social welfare theory, Social policy, Regional culture theory, Volunteer theory, Gender theory, Agricultural policy, Regional policy, Social security theory, Elderly welfare theory, Special lectures on modern society

Business administration and economic society course
Economic information analysis, Business planning, Logistics systems theory, Logistics information systems, Marketing theory, Marketing strategy theory, International economics theory, Medium and small enterprises theory, Production systems theory, Innovation theory, Advanced technologies theory, Basic accounting theory, Cost accounting theory, Bookkeeping systems theory, English language accounting, Disclosure systems theory, Financial Instruments and Exchange Act, Financial institutions theory, Financial accounting theory, Corporate finance I and II, Quantitative finance, Security markets theory, Corporate governance I and II, Special lectures on business administration and economic society

Information communication course
Logical thinking, Logical communication, Basic facilitation, Facilitation practice, Debating exercises, Information communication networks theory, Corporate information systems theory, Social information systems theory, E-business theory, Simulations, Gaming, Information security theory, Basic body information processing, Applied body information processing, Basic spatial information processing, Applied spatial information processing, Web design theory, Practice of web design, Applied information systems, Database theory, Database exercises, Information system design, Human interfaces, Information and occupations, Information mathematics I and II, Information society and ethics, Legal protection of information systems, Game design theory, Practical game development, Special lectures on information communication
Optional subjects
Social entrepreneurship theory, Regional society and finance, Current finance theory, Social engineering, Cognitive science, Education and society, Regional communication theory, Applied econometric model analysis, Accounting and history, Business administration strategic accounting theory, Insurance theory, Financial statement analysis I and II, Financial engineering, Statistics I and II, Computer economics, Computer accounting theory, Algorithm theory, Algorithm exercises, C programming, Visual programming, Java programming, Internship, Methods of teaching information studies I and II, Special lectures on information society
Seminar subjects
Basic exercises in the faculty of information society, Seminar I, II, and III, Graduation research