Faculty/Graduate School/Contents of Education
Seminar Subjects
Introduction to the Seminars
Realistically studying economics and business administration through household supplies and food products
■Toru Takamatsu Seminar
Theme: Economics and Business Administration from the viewpoint of goods

No matter how popular computers become, and no matter how far information technologies progress, there always are "goods" behind the economic development. This seminar focuses on "goods", which is an element of economics as important as people and money, to analyze household supplies and food products, which the students are familiar as part of their daily lives, from a variety of perspectives. For example, the seminar explores the theory by surveying everyday food products such as hamburgers to verify the deep links between goods and economics and business administration.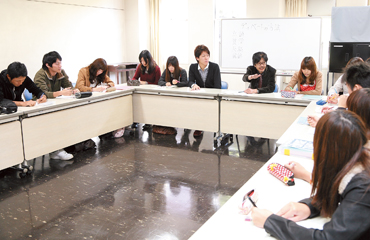 Comparing Japan with the European countries to discover the splendid character of their respective cultures
■Takuro Iwasa Seminar
Theme: Comparing the cultures of Japan and Europe

The European Union (EU), which has a huge impact on international politics and economics, is now facing a period of great change. In this seminar, following the study of comprehensive basic knowledge of Europe and the EU, groups of student select a country or theme they are interested in and present the results of a survey of the theme to the seminar. By comparing the culture of the European countries with that of Japan, they can deepen their understanding of both and acquire a broad perspective to survive in international society.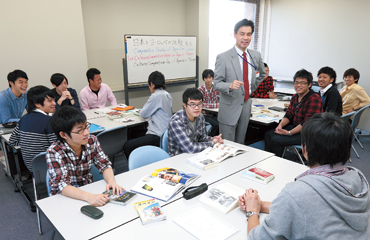 Reexamining the human mind and body to genuinely feel the depths of social phenomena
■Kunihiko Nomura Seminar
Theme: Social phenomena from the perspective of the mind and body

All social phenomena represent the results of bringing together the words and actions or circumstances of individual human beings. This seminar investigates the extremely close relationships of human change with social phenomena. The decline of people's bone density as they age for example, results in many broken bones caused by just one fall. The result is the social phenomenon: an increase in the number of bedridden elderly people. Focusing on these relationships gives students a new way of considering society and nurtures their capacity to act in accordance with this new perspective.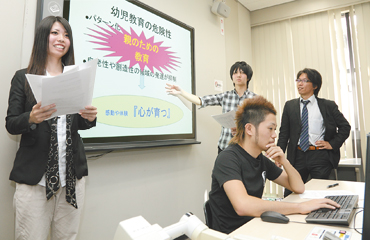 Seminar Theme List
・Social information and 3D technology
・Designing and creating computer games
・Game theory/net society and copyrights
・Business programming
・Data map: learning to view modern society through maps
・Sociology of cities and regions: ideal and reality of regional societies
・Mathematics in daily life
・Social phenomena from the perspective of mind and body
・Social and economic simulations based on agent models
・Management & Accounting
・Establishing a business in the global age
・Comparing the cultures of Japan and Europe ?focused on member countries of the EU?
・Financing mechanisms and technologies
・Finance

・Reading corporate information
・Corporate governance
・Economics and business administration from the perspective of goods
・Marketing strategies of modern corporations
・Management theory and location theory
・Sustainable development and role of accounting
・Validation of today's decision making usefulness approach through the filter of history
・Considering humanity and education from the viewpoint of society
・Considering society and culture through the United Kingdom
・Application of the newest ICT technology to business
・The public sphere and the media