Faculty/Graduate School/Contents of Education
Faculty Topics
Schematic Diagram of the Courses of Major Subjects in the Faculty of Information Technology and Social Sciences
The Faculty of Information Technology and Social Sciences, which encompasses a wide range of academic fields, has established a highly flexible curriculum. Students begin with a broad-ranging study of the fundamentals of sociology, business administration and economics, and information science, then they take specialized subjects matched to their individual goals. They can register for combinations of specialized subjects from diverse fields or register for specialized subjects in a single academic field. And the faculty has prepared advanced courses for students who want to perform more advanced learning.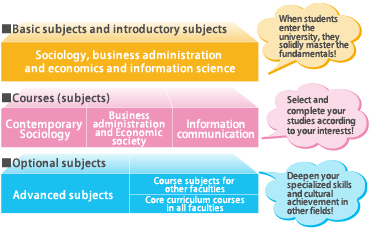 Main subjects
Research and Development Management Theory
Going behind the scenes of corporate research and development.
This is the study of both the failures and successes of research and development initiatives taken by corporations. It asks the universal question: is the mother of invention inspiration or hard work.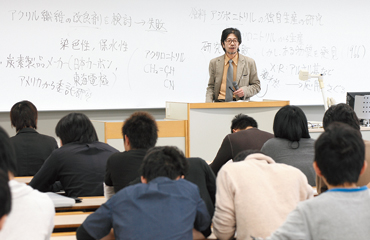 English Language Accounting II
Realistically learning the basics of overseas accounting.
In addition to English language bookkeeping, students master the skill of reading overseas accounting standards to understand financial statements of foreign corporations. It is a world-wide study of financial markets, about which it is said, "there are no national boundaries."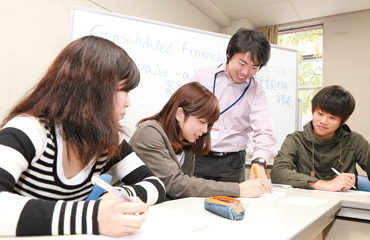 E-Business Theory
Clarifying the secrets of internet business success
Cyber malls or online-trading, are prospering at a pace overwhelming large distributors. Students learn the mechanism and the secrets of such business success by examining diverse specific cases.